You don't need to be quarantined to enjoy this flatbread. There are no flavors more American than salty Ranch and sweet BBQ that say welcome to summer! You can also use steak strips or substitute pork or chicken or ground beef.  Just don't call it steak flatbread anymore. 🙂
BBQ-Ranch Steak Flatbread
Ingredients
| | |
| --- | --- |
| BBQ Sauce | 3 oz. |
| Baby Arugula |  1/2 oz. |
| Buttermilk Ranch Dressing | 1 1/2 oz. |
| Naan Flatbread | 2 |
| Shredded Cheddar-Jack Cheese | 2 oz. |
| Steak Strips | 10 oz. |
| Yellow Onion | 1 |
Preheat your oven to 400 and line the baking sheet with aluminum foil.
Caramelize the Onion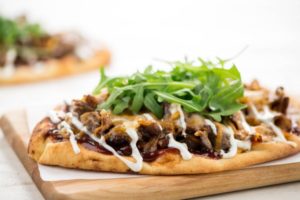 Halve and peel the onion. Slice halves into 1/4″ strips. Place a medium non-stick pan over medium heat and add 1 tsp. olive oil. Add onion slices to the hot pan and stir occasionally until browned, 10-13 minutes. If pan becomes dry, add water 1 Tbsp. at a time. Remove from burner. Keep onion slices in the pan. 
Par-Bake the Flatbreads
Place flatbreads directly on oven rack in hot oven and toast until lightly browned, 6-8 minutes 
Cook the Steak Strips
Separate steak strips into a single layer and pat dry. Place pan with onion slices over medium-high heat. Add steak strips to the hot pan. Stir often until no pink remains and steak strips reach a minimum internal temperature of 145 degrees, 4-6 minutes. Remove from burner.
Assemble, Bake and Finish the Dish
Place flatbreads on a clean work surface and top evenly with BBQ sauce, steak strip-onion mixture, then cheese. Place flatbreads directly on oven rack, with prepared baking sheet below to catch any drips. Bake until cheese melts and flatbreads turn golden brown, 5-7 minutes. Top with arugula and rand dressing (to taste).
You can find this and other great recipes at Home Fresh!