Dabble Creative Studio is an art education resource for students of any age to share, play, and explore art through its history and materials. They offer camps, classes, open workshops, and private parties for kids and adults! 
Angie Riner, a former elementary art teacher, certified Ohio art instructor, and Dabble's owner, wanted an art studio that encourages art exploration for anyone and everyone who walks in the door. Her mission is to have fun through creative exercise and hopes to inspire learning, innovation, and community collaboration at all levels.
The same week Riner launched her new website, along came Governor DeWine's Stay Home executive order. She had to quickly find a way to adapt to this temporary way of life or shut down completely. It didn't take her long to come up with a solution that helped still serve her customers.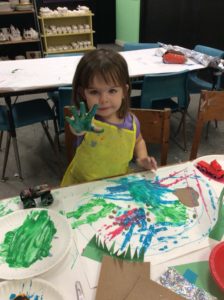 Instead of onsite classes, Riner began offering curbside pickup of art kits that were directly tied to an online class that she taught for free. The art kits could be purchased online and then picked up during specific hours. In addition, Riner had pottery painting kits to pick up curbside, paint at home, return curbside and then she would clear coat and fire your creations for you!
The idea was so appealing to parents that she couldn't keep up with the demand in the first week. This idea not only helped keep sales flowing,  and picking up new customers along the way, she also helped maintain an active sense of community with her current client base who were now scrambling for ideas to occupy their furloughed children.
If your business is not selling online now or you think, "why would I ever need to be online", the uncertainty of the current business climate is a good reason why you should be prepared to get creative in order to stay relevant. 
If you can find a way to adapt to the new world of social distancing and help your employees and customers get through these tough times, so will your business.