Are you using food to cope with the stress of staring at the four walls in your house for the past 4 weeks? We've all seen social media posts addressing everything from stress-related eating to individuals who have given us a play-by-play of their day-to-day menus.  
Quarantine Meal Schedule
| | |
| --- | --- |
| 7:00 am | Breakfast |
| 7:15 am | Dessert Breakfast |
| 8:30 am | Panic Snack with the news |
| 9:45 am | Chocolate |
| 11:30 am | Snack while standing up staring |
| 12:3o pm | Lunch with a small dessert |
| 2:00 pm | Post nap luncheon |
| 4:30 pm | Trail Mix |
| 6:00 pm | Dinner with weird vibes |
| 10:00 pm | Ice Cream |
That's ok. But you can eat healthier than this and still eat all day long (no you can't do that either).  Here is one of my favorites over the last few weeks. 
Garlic-Ginger Shrimp & Coconut Risotto
Ingredients
| | |
| --- | --- |
| Arborio Rice | 0 1/2 cup |
| Coconut Milk | 5.6 fl. oz. |
| Green Onions | 2 |
| Heads of Baby Bok Choy | 2 |
| Mirepoix Base | 4 tsp. |
| Shrimp | 8 oz. |
| Thai Sweet Garlic and Ginger Sauce | 2 fl. oz. |
| Toasted Coconut | 2 Tbsp. |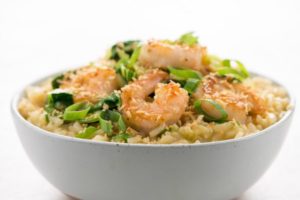 You can use shrimp or substitute diced pork or chicken or some extra firm tofu if you're not a meat-eater.  You will need some green onions and bok choy.   Cut bok choy stems into 1/4″ slices and coarsely chop leaves. Keep stems and leaves separate. Trim and thinly slice white portions of green onions. Thinly slice remaining green onions on an angle. Keep white and green portions separate. Pat shrimp dry.
Create a Mirepoix Mixture
Mirepoix is a combination of onions, celery, and bell peppers. Traditionally, the weight ratio for mirepoix is 2:1:1 of onions, celery, and carrots.
Start the Risotto
Place a medium pot over medium-high heat and add 1 tsp. olive oil. Add rice and white portions of green onions to a hot pot. Stir occasionally until rice is toasted and opaque, 1-2 minutes. Add 1 cup boiling water from small pot and mirepoix mixture to the pot with rice. Rice should just be covered by water. Stir often until nearly all water is absorbed.
Finish the Risotto
Add 1/2 cup boiling water from the small pot and stir often until nearly all water is absorbed. Repeat this process, stirring often, 18-20 minutes. Taste risotto as you cook, checking for tenderness. When the rice has no more "bite" or crunch, it's done. There may be water left. Stir in coconut milk until combined and bring to a boil. Once boiling, stir constantly until slightly thickened, 1-2 minutes. Remove from burner and stir in green portions of green onions (reserve a pinch for garnish) and 1/4 tsp. salt. Cover and set aside.
Cook the Shrimp
Heat 1 tsp. olive oil in a medium non-stick pan over medium-high heat. Working in batches if necessary, add shrimp to the hot pan and cook undisturbed until seared on one side, 2-3 minutes. Flip, and cook until shrimp reaches a minimum internal temperature of 145 degrees, 1-2 minutes. Transfer shrimp to a plate. Keep pan over medium-high heat.
Cook Vegetables and Finish Dish
Add 1 tsp. olive oil and bok choy stems to hot pan and stir occasionally until lightly browned, 2-3 minutes. Add bok choy leaves and stir constantly until leaves are wilted 1-2 minutes. Stir in shrimp, garlic and ginger sauce, and 1/4 tsp. <salt until heated through, 30-60 seconds. Remove from burner. Plate dish topping risotto with the shrimp-vegetable mixture and garnishing with toasted coconut and reserved green portions of green onions. Bon appétit!