Why would you want to optimize a website for search engines? In the end, it's all about making your website show in search engines so that you can get traffic. It's clear that you want more traffic, but it's the quality of the traffic that matters — quality over quantity. Are you doing anything to make your site the best answer for search engines? Do you give search engines a reason to index your site so that people are able to see your services, products, or information? 
Why do you have a website?
Your website should be helping to drive sales, develop leads and spread information about your products and services. Websites are not built to sit still and look pretty.  Their function is to do something — to make it easier for people to get information, get leads, to sell stuff, or answer questions. You need to find the reason for your website. 
Google is always trying to improve itself to answer search queries. Google's ultimate goal is to answer search queries as best as it can. If you optimize your website the right way, with high-quality work aimed at being the best answer to the question, your website will organically show on the first page of Google's search results. 
SEO is not a static activity. It requires monitoring and adjustments. It requires link building to send signals to Google to show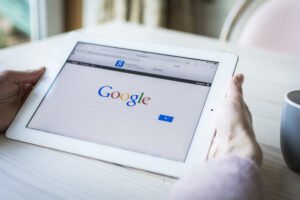 you're the authority in your industry. A significant indicator to Google and how it ranks you in its results. Onsite blogging brings another factor to how Google looks at your industry authority. Our team of writers creates beautiful long-form content for your blog that is well-optimized for search. If our not blogging, you're losing the search engine battle. 
Companies that blog are 13x more likely to generate a positive ROI.
82% of marketers who blog daily acquired a customer via their blog.
61% of U.S. online consumers have made a purchase based on recommendations from a blog.
Blogging increases inbound links by 97% for those companies that produce a blog.
60% of consumers feel more positive about a company after reading custom content on its site.
Articles with images get 94% more views than those without.
Inbound marketers who are generating positive ROI are emphasizing programs designed to get their content, and by extension their company, found. In order, blogging, organic search, and content amplification top the list. Blogging appears to have the most substantial impact on performance.
SEO has the best long-term return on investment because you do not pay for clicks from natural search results. This doesn't mean SEO is free. A dynamic REAL SEO program is needed to earn and maintain page-one rankings. You don't get many clicks if you're not on page one.
REAL SEO is our proven-to-succeed SEO program that considers your budget, your business niche, and your competition.
REAL SEO is:
Research – We identify facts and information about your business, keywords, and themes that attract people looking for your products and services, and lay the groundwork for the campaign.
End-User Value – We design meaningful content, including articles, blogs, and visual assets that will be of genuine interest to your clients and potential clients.
Analysis – We track, fine-tune, and optimize the campaign to make sure it's reaching your clients, potential clients, and search engines.
Links – We distribute the content to the right people and places, engage people across the web, earn links to your website, and improve your search rankings.